Hi Mike...this is what a web page looks like when you don't have time to dress it up...Al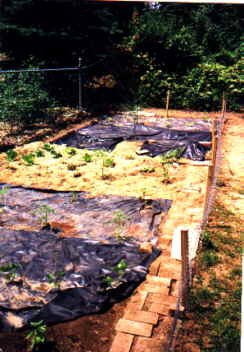 The infamous garden where fresh tomatoes only cost seven times what they cost in the super market. About in the center and to the right are lettuce plants, iceberg and romaine. They are not there now having already served as a delicious lunch for our local ground hog. I'm sure he enjoyed them as much as we might have. At the far end there is squash and beans. The beans kind of went the way of the lettuce, probably as an appetizer portion. A little known fact is ground hogs do not like basil so that cotinues to grow in the lower left corner of the photo.
Ms. Wohlsen, sporting her new "do" for the summer proudly points to her new color coordinated pump capable of delivering 47 gallons of fresh water a minute. The water is used for growing lettuce and beans.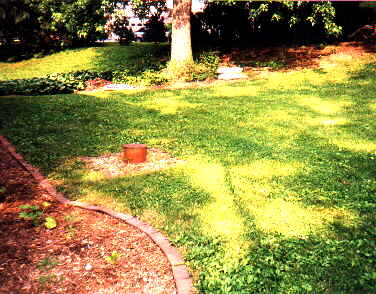 And soon to be the site of a brand new, highly efficient 1,500 gallon dual chambered permanent septic tank....

click here for a better photo of Vic's new "do."