"KEEP IN TOUCH OR ELSE !"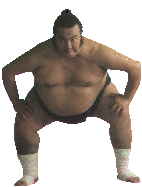 Tokyo is a great place and Japan a wonderful country, but it is not home.

if writing, you should know postage for a a regular letter is $1.00 and mail takes about eight days to reach me from the US of A. You should put the following on the envelope:
(home)
Michael Balaban
#302 4-15-4 Nishi-Azabu
Minatu-Ku, Tokyo 106-0031
Japan
(office)
Mr. Michael Balaban
Saloman Smith Barney (Japan) Limited
Akasaka Park Building
2-20, Akasaka 5-chome
Minato-ku, Tokyo 107-6122
Japan
if calling, I'm 13 hours ahead of most people (always have been), which is another way of saying, try not to phone when it's between noon and 5 pm in New York, dial:
home 011-813-5466-4528
office 011-813-5574-4524
if faxing, you can use (remember faxes are open documents and I don't always leave my fax on):
home fax 011-813-5466-0820
if emailing, please note emails are the same as postcards, just not as pretty:
personal: Bammer47@aol.com
if visiting, try and let me know before you get here, but tell the cab driver you want to go to:
Nishiazabu 415 Bankan Apt 302
15-4, Nishiazabu, 4-chome, Minato-ku
(I'm assuming you're in Tokyo when you get the cab and you'll wait in the lobby)
if shouting, it's probably best to face due North River and yell, very loudly.
more stuff
Mike's Japanese Business Venture
Mike's Official Off to Japan Page
Mike's Personal Diary Page
Sentimental Thought
Home

small print: there is no intention of violating any customs or copyrights. please advise of any errors and I will have it corrected immediately with sincere apologies. the only purpose of this site is hopefully, for good natured humor and camaraderie. Last updated July 7, 1998.